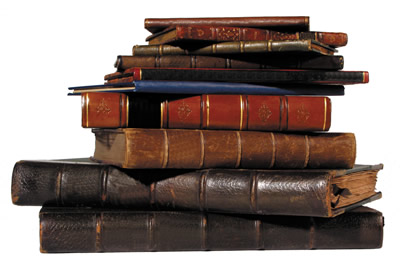 David Grayling Books

R F Shipping

Joshua Horgan

Edmund Pollinger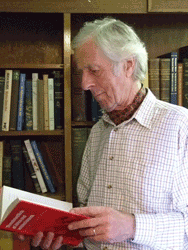 David Grayling Books
From hunting, shooting and fishing hobbies... to 35 years a bookseller
David Grayling Books specialises solely in volumes related to natural history and hunting, shooting and fishing - including big game hunting throughout the world. Based in Westmorland on the boundary of the Lake District National Park, David remains a participant in most fieldsports and a keen conservationist.
Thirty-five years ago, David lost his job as an agricultural adviser for a national company and turned his book collecting hobby into a business. His first purchase of two old hunting books, about forty-five years ago in a small market town in northern England, triggered an interest in scarce works on country sports and natural history which continues to this day.
In the early days, David scoured the numerous antique and junk shops in Northern England. They often had boxes of old books tucked in a dusty corner. In time he acquired considerable knowledge and a degree of instinct for the better and scarcer works. One memorable purchase in the late 1960's was a copy of the 'Douai' bible of 1582 - the first English translation of the Roman Catholic New Testament - which he sold for £100, a lot of money in those days.
As a traditional bookseller he has an intimate knowledge of rare and limited edition books in natural history as well as country sports; his network of contacts and clients extends around the world. David Grayling is proud to remain a traditional bookseller, producing a number of printed catalogues each year and building personal relationships with many customers; he has recently launched an e-commerce web site to ensure that while his interests may lie in a bygone era, his business doesn't!
---
Update:
R F Shipping have now moved to 8, Thurloe Place. London SW7 2RX.
Opposite the V & A Museum. Tel: 0845 873 6240
RF Shipping was founded in 2005 by Robert Frew following our move to Maddox Street in the heart of central London, adjacent to all the major auction houses. As experienced bookdealers we have handled the packing and shipping of books for some 30 years and have developed a large range of logistical solutions to the needs of the industry.
Professional packing and attention to detail, prompt service at the most economic rates, and of course total confidentiality are assured.
Having performed these functions for ourselves and friendly colleagues for a number of years we decided to put the service on a professional footing. To that end we set up a separate company with its own terms and conditions. So far we have engaged an additional dedicated member of staff to handle the day to day affairs which at this point are still jointly managed by Kate and Jonathan.
Response has been very positive from members of the trade, mainly dealers abroad requiring books to be collected, packed and shipped to their home countries. But additionally we have served a number of British dealers and private collectors. Our client base seems to be growing daily and repeat business evidences considerable satisfaction.
We have various expansionist plans and will promote these in due course.



---
Joshua Horgan is probably best known for the printing of book catalogues for the antiquarian book trade in the UK. It was originally the printing arm of Joshua Associates Ltd, a typesetting company which started in the late 60's and owned by Peter and Anne Joshua. This company finally closed 2 years ago as the major publishers now source most of their work from the Far East.

Peter owns the current premises in Marston Road, Oxford, where the business has developed into the one we know today. "Initially we began with one AM/1250 press eventually progressing to four, stapling, folding and collating by hand." Peter says. "After our experience with a Thompson Crown, which we would rather forget, we finally bought our first Heidelberg GTO. We then discovered Perfectors 'two-sides at the same time!' and we now own two which handle the bulk of our black and white work. Our other machines are a GTO 52 single head, a GTO 52 double head, and the finishing is handled by a Duplo Booklet Maker and a Sulby 1250 Perfect Binder."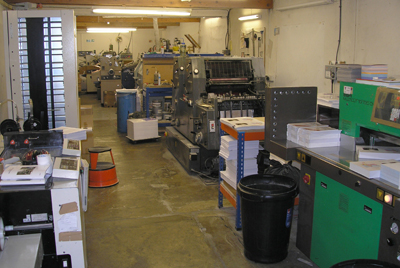 Patrick Horgan joined the Company from one of the University Departments. His enthusiasm and commitment was recognised very soon by Peter and he became a Partner in 1989. "Patrick would never complain at working straight through for 30 hours to get a job out on time and I was keen to reward that dedication."

The Company is very aware of the competition and understand how easily work can be taken away. Constantly striving for new work, much of which still comes by word of mouth, they work to very tight margins and hope their strength lies in the service they provide. Patrick always says "Remember Our Customers Are Our Jobs".

Peter and Patrick realise how lucky they are to have a very dedicated staff, "Some have been with us for many years and we still keep in touch with past colleagues."

Patrick now manages the day-to-day running of the Company but Peter and Patrick are still very much 'hands on' with the business. Patrick also has his hands full with a young family and Peter has just become a Grandad.
---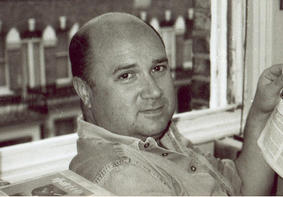 Edmund Pollinger

Having worked in The Book Department of Christies's for five years, and then thirteen years working with the prominent and renowned dealers Bernard Shapero, Henry Sotheran Limited, and Marlborough Rare Books, Edmund Pollinger has moved, with his own stock of books, to Private Premises in Kensington and Chelsea.

To avoid disappointment those wishing to seek out Edmund Pollinger should telephone 0207 244 8498 or ring his mobile 07834 601432. An appointment can then be made to visit the premises of Edmund Pollinger Rare Books at 27D Bramham Gardens, Earls Court, London, SW5 0JE.
Edmund Pollinger's website.

Situated just down the road from Harrods these private premises have a continuously evolving stock of books ranging from Big Game Hunting and Fishing, Birds and Bees to Women, Fashion, Etiquette, Food, Drink, Drugs and Herbal Remedies.

An example of the typical specialist stock held by Edmund Pollinger is:

VON HOHNEL, Lieutenant Ludwig. A Narrative of Count Samuel Teleki's Exploring and Hunting Expedition in East Equatorial Africa in 1887 & 1888, by His Companion. Longmans, Green, & Co., 1894. £3,200

8vo. 2 vols. Original slate blue cloth, the upper covers with a centrally-placed gilt vignette of a pair of Natives, with Spears and Shields, spines titled in gilt with a gilt vignette of an Antelope; xx + 435, and xii + 397, with A FINE WOOD-ENGRAVED PORTRAIT FRONTISPIECE OF "COUNT SAMUEL TELEKI VON SZEK" IN "TROPICAL KIT", INCLUDING RIFLE AND PITH HELMET, WITH TISSUE-GUARD, and 35 other wood-engraved plates, 2 maps, one coloured and folding, and copious wood-engraved illustrations throughout; a sparkling fresh set externally, while internally, there is undeniable light spotting throughout, but this remains an extremely handsome and crisp set of a classic.

First edition. CZECH: "AN EXCELLENT WORK OF EXPLORATION AND SPORT, this scarce set represents African adventure at its finest. Departing from Zanzibar, the expedition HUNTED BUFFALO, RHINOCEROS,AND A VARIETY OF PLAINS GAME IN THE NEIGHBOURHOOD OF MOUNT KILIMANJARO. Near Lake Nyiri, more Rhino and Buffalo were encountered. While Hunting elephant, Von Hohnel was injured form recoil when he fired his heavy-bore rifle from a prone position. CONTIUING INTO KENYA, THE PARTY HUNTED RHINO, BUFFALO AND ELAND NEAR LAKE BARINGO. There is also considerable Elephant Hunting near Mount Nyiro, with additional Elephant Stalking near Lake Stephanie." THIS MARVELLOUS ACCOUNT OF A TWO YEAR EXPEDITION FROM ZANZIBAR NORTH TO THE HITHERTO UNKNOWN LAKE STEPHANIE also contains most informative accounts of The Masai and Kikuyu tribes through whose lands the party passed.

Czech p. 78.
Also offered in addition to the Booksearch is a complete Refurbishment and Rebinding service.

Or visit, by appointment, the new Private Gallery in West Kensington, just down the road from Olympia.
Tel: 0207 602 2653

In the 'Private Gallery' there are images of 'Female Figurative Art' (in all media) to view. Edmund's boast is that after years of collecting he should be able to match or find other examples, or close approximations, of many of the images found should something take your fancy.

Viewing can take place during normal working hours (9.30am - 5.30pm Mon - Fri) or of course you could always email: etpollinger@hotmail.com